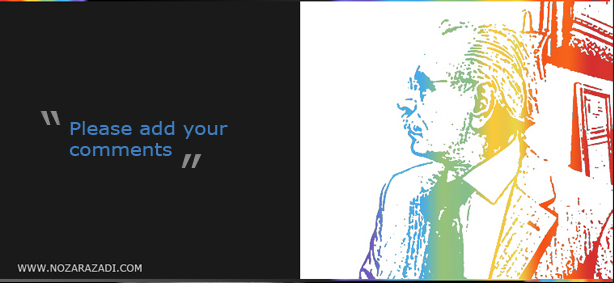 Please make sure you leave you thoughts and comments on this section.
—————————————————————————————————————————————————-
Message from Nozar Azadi:

Man Nozar Azadi, dar barabare mohabathayeh bi andazeyeh shoma yaran, sar forood miavaram. Shanehayeh kookchakeh man tahamoleh in hameh mehrabani va zibayee ra nadarad.
Bi nahayat khoshalam ke moadele mardom harghez dar moghabeleh masaele ensani va honare vaghei eshtebah nemikonad.
Dasto royetan ra mibosam va dar barabare aagahi, safa, va vafadari shoma kari az man sakhteh nist joz shadi va sepas, va sepas.
—————————————————————————————————————————————————-
My dearest friends, I bow down to you all, for your unlimited kindness. My light shoulders cannot bear all this love and beauty.
I am just happy that the Iranian people are never wrong in recognizing humanity and art.
I kiss your hands and faces and stand here witnessing your wisdom and loyalty. I am unable to do anything but to be happy, humble, thankful and thankful.
Nozar Azadi
—————————————————————————————————————————————————-