Please make sure you leave your thoughts and comments on this section.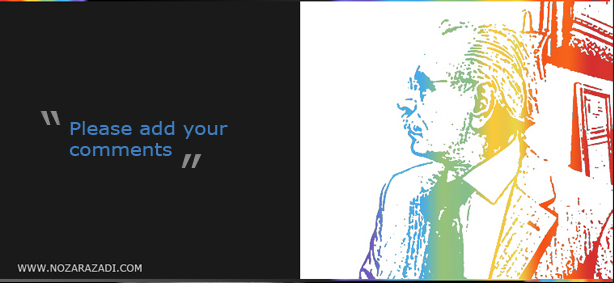 Message from Nozar Azadi:

من، نوذر آزادی، در برابر محبت های بی اندازهء شما یاران، سر فرود می آورم. شانه های کوچک من تحمل این همه زیبایی و مهربانی را ندارد
بی نهایت خوشحالم که معادل مردم هرگز در مقابله مسائل انسانی و هنر واقعی اشتباه نمیکند
دست و رویتان را میبوسم و در برابر آگاهی، صفا و وفاداری شما، کاری از من ساخته نیست جز شادی و سپاس و سپاس
————————————————————————————————————–
My dearest friends, I bow down to you all, for your unlimited kindness. My light shoulders cannot bear all this love and beauty.
I am just happy that the Iranian people are never wrong in recognizing humanity and art.
I kiss your hands and faces and stand here witnessing your wisdom and loyalty. I am unable to do anything but to be happy, humble, thankful and thankful.
Nozar Azadi
————————————————————————————————————–